We source the best chocolates based on quality, purity of ingredients and flavour, not the cheapest price.
We can state as a retailer and not manufacturer that the chocolates and brands within the collection are amongts the best in the world. Most chocolate makers featured are world renowned, award winning 'Cacaofevier' - bean to bar chocolate makers
VoucherSpot Best Buys
Willie's, The Golden Pod, Sea Salt Caramel Dark Chocolate Pearls
A gourmet, fun chocolate gift for the chocolate connoisseur. Open the Golden Pod tin shell to find these decadent foil wrapped, single origin, dark chocolates containing molten caramel with flakes of sea salt. A real chocolate treat.
Charbonnel et Walker - Handbag & Heels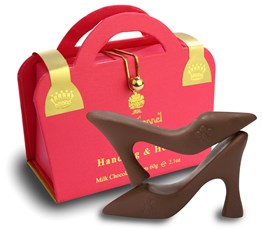 A fun chocolate gift for all those shopaholic, chocoholics.
A miniature pair of solid, milk chocolate stilettos presented within a vibrant pink handbag shaped box bearing the Charbonnel et Walker name embossed in gold. The perfect gift for all chocoholic, shopaholics with a penchant for shoes, or as wedding favours.
Prestat, London Gin & Lemon Fizz Chocolate Truffles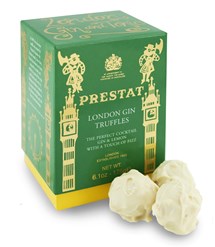 A dark chocolate ganache is flavoured with gin and infused with lemon and juniper berries before being enrobed in creamy white chocolate. The secret ingredient is the fizz.